Accreditations
AS6081: Counterfeit Electronics Prevention for Distributors (CEPD)
What is COUNTERFeIT ELECTRONICS PREVENTION FOR DISTRIBUTORS (CEPD) Accreditation?
ANAB Accreditation for Counterfeit Electronics Prevention for Distributors (CEPD) certification for Certification Bodies as a subordinate certification of organizations that distribute electronic parts and components under certified Quality Management System.
ANAB is the only Accreditation Body offering a certification program, that supports the aviation, space and defense (ASD) industry requirements for the prevention of counterfeit parts in the distribution process. ANAB has worked with the defense industry and the Anti-Counterfeit Avoidance Group (ACAG) since its development of the first Aerospace Standards in defining the processes, procedures, and methods of counterfeit parts prevention.
ANAB personnel have worked closely with the ACAG in harmonizing the needs of the ASD and the regulatory requirements to develop a critical certification program that covers a key component of the electronics parts and components supply chain.
Electronics Distributors Counterfeit Parts Prevention Certification
CEPD certification is subordinate to several different quality management systems (e.g., ISO 9001, AQMS standards, ISO 13485).
ANAB Accredited CBs certify electronic distribution organizations with an integrated management system in accordance with the SAE International Standard "AS6081 – Counterfeit Electrical, Electronic, and Electromechanical (EEE) Parts: Avoidance, Detection, Mitigation, and Disposition -Independent Distribution."
AS6081 certified distribution organizations demonstrate their commitment to consistently provide products and services that meet customer and applicable statutory and regulatory requirements.
AS6081 Counterfeit electronics prevention Accreditation Requirements
Featured Product
AS6081 establishes requirements and practices to mitigate the risk of buying, receiving, and selling fraudulent/counterfeit electronic parts in the aerospace supply chain.
Talk to an Expert
Dale Gordon
Senior Manager of Accreditation, Management Systems
Aviation, Space, and Defense and Counterfeit Prevention Programs
414-687-7499
Need Training To Support Your Accreditation Journey?
Learn how to implement an accreditation program. Register for a course to get in-depth instruction on accreditation-related requirements and processes.
Management Systems Accreditation Resources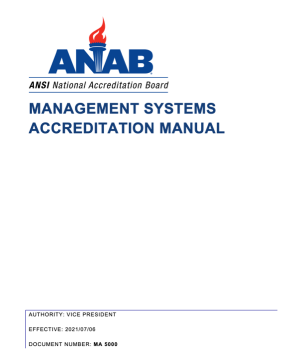 This manual explains the operational activities and responsibilities of ANAB and accredited management systems certification bodies (CBs).
Who is Accredited?
Search the directory of accredited organizations.