ANAB to Host 2020 Credentialing Conference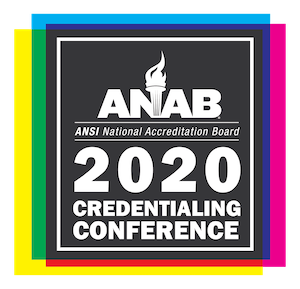 ANAB invites interested stakeholders to the ANAB 2020 Credentialing Conference. As a part of an ongoing effort to provide opportunities for further education and information sharing, ANAB has combined its popular Credentialing Client Day event with three technical workshops on psychometrics, management systems, and certificate programs.
For the health and safety of participants, the 2020 Credentialing Conference will be completely virtual. View the full agenda.

Individuals and organizations interested in operating high-quality certification programs is encouraged to attend. The ANAB 2020 Credentialing Conference will be especially valuable for:
Personnel from corporations, organizations, government agencies, and others operating credentialing programs who want to learn more about how accreditation can add value to their programs
Organizations considering developing a credentialing program to industry-recognized standards
Organizations going through the ANAB accreditation process for the ISO/IEC 17024, ASTM E2659, and/or ANAB-CFP programs
Organizations currently accredited under the ISO/IEC 17024, ASTM E2659, and/or ANAB-CFP programs
Overview of Event
ANAB will host the 10th annual Credentialing Client Day meeting on September 22, 2020, as part of the ANAB 2020 Credentialing Conference. Attendees will have the opportunity to learn about new initiatives and updates relevant to the credentialing programs from a variety of speakers. This year's event is open to anyone representing the following:
Current ANAB-accredited certificate-issuing bodies under the ASTM E2659 standard
Current ANAB-accredited certification bodies issuing food safety protection manager certifications under the ANAB-CFP standard
Current ANAB-accredited personnel certification bodies under the ISO/IEC 17024 standard
ANAB will also hold three technical workshops on September 23-25, 2020. Each one-day workshop costs $200 USD, or three can be attended for $500 USD. Any member of the public is welcome to attend the workshops. Learn more about the workshops, which will be facilitated by ANAB staff and qualified ANAB-assessors with years of experience.