Accreditations
AS9110: Certification of Aviation, Space, and Defense Maintenance Organizations
What is ACCREDITATION AS9110?
The AS9110 standard is the ICOP Scheme requirements for organizations at any level in the ASD global supply chain that maintains, repairs or overhauls (MRO) ASD products. Its use should result in improved quality, schedule and cost performance by the reduction or elimination of organization-unique requirements and wider application of good practice. While primarily developed for the aviation, space and defense industry, this standard can also be used in other industry sectors where a quality management system with additional requirements over an ISO 9001 quality management system (QMS) is desired for maintenance organizations.
The standard complements and is additive to the ISO 9001 QMS structure and framework without changing it. ANAB accredited CBs issued more certifications to this standard than any other Accreditation Body. The ANAB AQMS Accreditation application for AS9110 can be gateway to the other ASD Standards or approved as a complete suite of standards (AS9100 and AS9120).
ANAB Assessors are industry professionals that have directly worked with the standard and are very familiar with its implementation. ANAB works directly with the IAQG Certification Oversight Team (ICOT) to assure that we can provided accurate implementation, understanding and support to certification bodies and their clients.
AS9110 asd maintenance organizations Accrediation information
IAF has published Mandatory and Informative Documents that support accreditation for AS9110. For more information see IAF.
Featured Product
The AS9110 Standard includes:
Complete text of ISO 9001 QMS
Regulatory requirements for ASD Repair Stations
Requirements for ASD defense maintenance organizations (MRO and Depot)
Requirements for organizations that design maintenance and repair plan for ASD products
Enhanced requirements for control of personnel performing maintenance
Inclusion of requirements operating with a Safety Management Structure (SMS)
Talk to an Expert
Dale Gordon
Senior Manager of Accreditation, Management Systems
Aviation, Space, and Defense and Counterfeit Prevention Programs
414-687-7499
Need Training To Support Your Accreditation Journey?
Learn at your own pace with online courses or choose an instructor led class offered online or in a convenient location.
Management Systems Accreditation Resources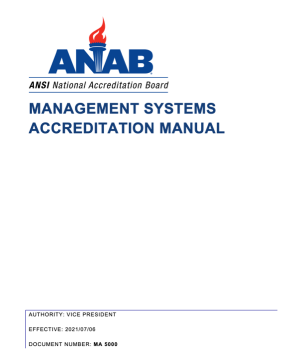 This manual explains the operational activities and responsibilities of ANAB and accredited management systems certification bodies (CBs).
Who is Accredited?
Search the directory of accredited organizations.