Product Certification Accreditation – How to Apply
ANAB assesses and accredits certification bodies (CBs) that demonstrate competence to certify products, processes, and services in accordance with ANAB's accreditation requirements, including ISO/IEC 17065 and relevant certification scheme requirements.
Accreditation by ANAB, a recognized and respected accreditation body, ensures the impartiality and competence of the CB and fosters confidence and acceptance of the CB's certifications by end users in the public and private sectors.
Contact ANAB by completing the form below with any questions about the process or request a quote if you would like to receive an estimate on the cost of ANAB accreditation for product certification bodies.
Requirements for CBs
The first step in becoming an ANAB-accredited certification body is to become familiar with requirements and the accreditation process. Participating in ANAB training is one way to familiarize yourself with the requirements of ISO/IEC 17065.
When a CB is ready to apply, you can submit the completed application and supporting documentation.
All information requested by ANAB, including the application forms and supporting documentation, shall be submitted in English.
Initial Accreditation Process
An overview of the initial accreditation process is illustrated below: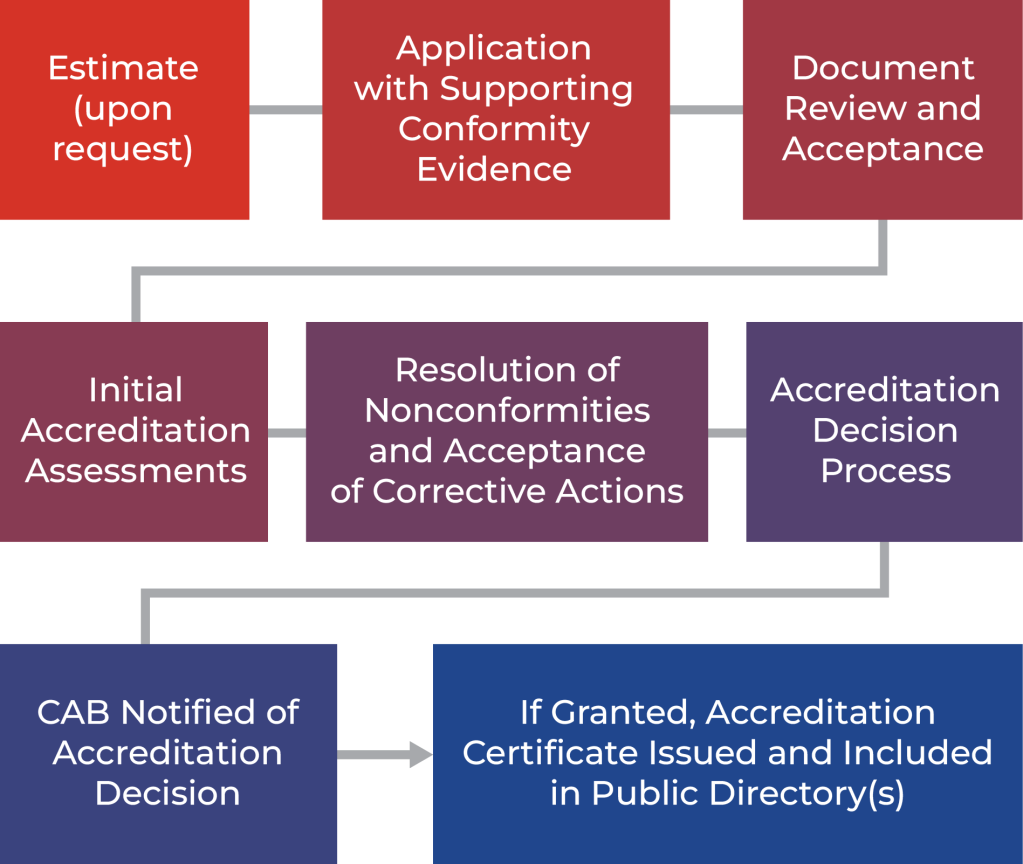 Once product certification accreditation is achieved, the accreditation cycle is typically two years. Maintaining accreditation includes at a minimum, an annual office and witness assessment/s with a complete reassessment required at the end of the accreditation cycle. Depending on the scope of accreditation, oversight may increase to cover additional certification schemes. If a CB becomes accredited for additional certification schemes, the accreditation cycle is typically aligned for all certification schemes and the accreditation period for the added certification schemes may be less than two years.
Application Process
To be able to apply for accreditation, a CB must provide ANAB evidence that it meets requirements outlined in ISO/IEC 17065, the applicable certification scheme, and additional requirement documents. The CB is required to provide the application fee via wire transfer, ACH (electronic transfer), credit card, or check.
After the CB submits information to ANAB, staff reviews the CB's information and provides the application with supporting conformity evidence to a technical reviewer. If the information is found acceptable, ANAB will work with the CB to schedule initial assessments. The CB may be requested to provide additional information to support the application for accreditation. To learn more about the accreditation process, please review PRO-PL-102.
ANAB reserves the right to stop the application process at any time if ANAB feels the accreditation objectives cannot be met.
Any reference by the applicant CB to its status as an applicant for ANAB accreditation shall be in keeping with the terms and conditions outlined in ANAB's Accreditation Agreement.
Optional Preliminary Visit
Before or during application for accreditation, a preliminary visit may be requested by the CB or recommended by ANAB. ANAB and the CB will determine the agenda for the visit. Contact ANAB using the form below for the cost and to arrange an optional preliminary visit.
For more information, please contact ANAB: